The Original Texas Tourist Guide - Since 1997
with over 60 Categories of Tourist Information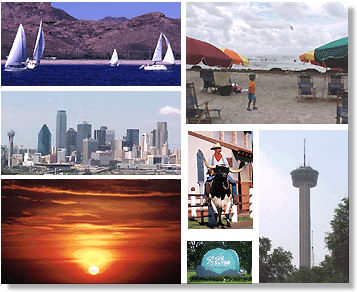 TouringTexas.com is the largest and most comprehensive tourist guide for Texas. Looking for a Texas Vacation? Need Texas information? This Texas Tourist Guide has Texas pictures, maps of Texas, Texas lodging, Texas tourist attractions, Texas events, Texas Summer Camps, Texas History, recreation in Texas, Texas Hotels, and much more about Texas.

Experience the large variety of wildlife and beautiful scenery in Texas. Texas is a very diverse state with 262,017 square miles of territory and 624 miles of shoreline on the Gulf of Mexico. Texas' elevation varies from zero to 8,749 feet elevation. The population is a little over 26,000,000 people, but Texas only has an average of 99 people per square mile. The rainfall and climate varies greater with the southeast part of Texas being wetter and the northwest being arid. It is approximately 900 miles from one side of Texas to the other at the widest points.

If you are a snowbird from the North which we call Winter Texans, you will absolutely love Texas. Come on down and spend a while in our nice, mild winter climate in Texas. You can play golf year-round in central and south Texas.

If you are looking for a place to retire, you will definitely want to look at Texas. Experience the large variety of wildlife and beautiful lakes and scenery in Texas.

The prices in Texas are reasonable. The people in Texas are friendly. You have heard of Southern Hospitality? You will be treated well in Texas. You will feel very welcome in Texas.

Included in our Touring Texas Web Site you will find:

Tourist Attractions throughout Texas are listed

Tourist Information on Lodging, Dining, and Sight-seeing in Texas

Lake rental houses, cabins for rent, resorts and motels in Texas

Recreation and Sports featuring boating, sailing, water-skiing, jet-skiing, sports teams, golf and more in Texas

Texas Summer Camps and Horsemanship Camps

Information on over 900 Texas Golf Courses

Information on over 145 Texas Cities and Towns in Texas

Information on Texas Lakes and the Gulf of Mexico

Over 1,000 photos of Texas

Over 200 Texas Government and Texas Business Web Pages

For information on this Website you can Email us at:
info@touringtexas.com

If you do not have frames activated on your computer, you can use the links below to navigate the web site. If you do have frames activated and you see an Index on the left frame, use that Index to navigate the web page.
Texas Cities
Texas Towns
Popular Tourist Towns
Texas Lakes
LODGING:
Bed & Breakfast Inns
Cabins For Rent
Vacation Condos
Gulf Coast
Vacation Condos
Hotels
Historic Hotels
Houseboat Rentals
Lake Houses For Rent
Motels
Vacation Ranch Rentals
Resorts
Retreat Facilities/Spas
RV Parks
Summer Camps
LOCATIONS FOR:
Reunions, Meetings,
Events, Weddings
& Receptions
REAL ESTATE:
Real Estate Listings &
Real Estate Agents
Texas Real Estate
RECREATION, SPORTS
and WILDLIFE:
Bird Watching
Boat Rentals
Boat Sales
Fishing
Fishing Guide Service
Golf Courses
Guns & Classes
Horseback Riding
Houseboat Rentals
Marinas
Sports Teams

Texas Summer Camps
Texas National Parks
Texas State Parks
Wild Life
TRAVEL:
Car Rentals
Airline Tickets

MISC:
Antiques
Highland Lakes Events
Hill Country
Tourist Restaurants
Retirement Information
Retreat Facilities/Spas
Shopping for Tourists
State Capitol Tours
Texas Dance Halls
Texas History
Texas Maps
Texas Museums
Texas Photos
Texas Products
Texas Travel Guide
Texas Tourist Guides
Texas Tourist Attractions
Texas Theme Parks
Texas Trains
KXAN Weather
Zoos in Texas

More Texas Web Sites

OTHER WEB SITES:
Branson, MO
Touring U.S.

Do you know about a Web Site that belongs on Touring Texas? Let us know about it.
Thank you!
For information on this Website you can email us at: info@touringtexas.com
© 2009 Highland Lakes Web Pages, LLC
This web site is hosted at HighlandLakes.com